The 2022 Subaru Love Promise Community Commitment Award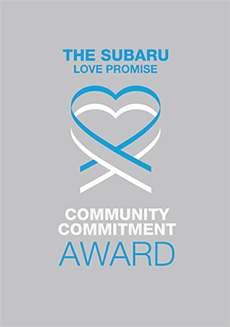 We've been nationally recognized for our dedication to our community and the Subaru Love Promise.
We're honored to receive the 2022 Subaru Love Promise Community Commitment Award. This award nationally recognizes Subaru retailers who are making the world a better place while demonstrating an outstanding commitment to supporting passions and causes in local communities. These efforts are focused in important areas such as the environment, community, health, education, and pets.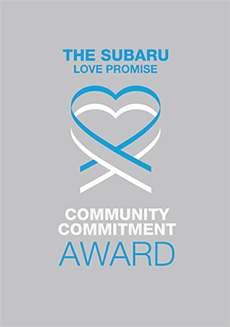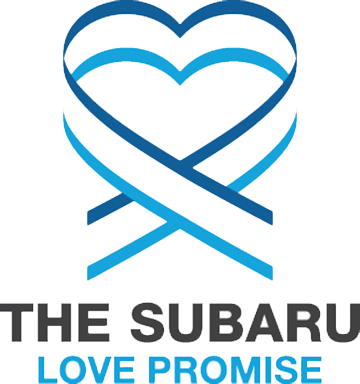 What is the Subaru Love Promise?
Subaru and our retailers believe in making the world a better place and the Subaru Love Promise is our vision of respecting all people. This is our commitment to show love and respect to our customers and to work to make a positive impact in the world.
How is Lithia Subaru of Fresno dedicated locally to the Love Promise?
Our Love Promise can be seen in various partnerships with local charities and non-profits. We're grateful for the opportunity, not only to be a part of our community, but to serve it as well. We believe that it is our social responsibility to give back to our community. That as a whole we become united and caring for one another.
Animal Compassion Team of Fresno, Miss Winkles
Sleep in Heavenly Peace, Fresno Pride Parade, Break Foundation, American Legions
Down Syndrome of Central California, Leukemia Lymphoma Society, Valley Childrens Hospital
Love Promise Stories from Lithia Subaru of Fresno
Subaru and Lithia Subaru of Fresno believe in making a positive impact on the communities in which we live and work. We uphold that belief through our Love Promise Community Commitment. Every month, we select inspiring stories from customers and partners from around our area who strive to support our collective commitment and feature them here
Annabeth finds a home - Julie B
Our 24th adoption Meet Annabeth - a 10 1/2 yr old boxer. We are so excited about all our adoptions but this one in particular. We got the call to take in this dog from Animal Control. We were informed she had a mass on her back hind leg. It was about the size of a grapefruit. Bless Annabeth because she acted like it did not even bother her. We meet with our vet who gave us a quote to remove the mass and do a dental about $1,095. We had needle biopsy which confirmed they were cancerous cells. We have no guarantee they got all the cancer. She has been with us since June of 2022. Since healing we had her up for adoption and we had a person meet her, but you can tell it was not the right family. Enter her knew family. They lost their boxer not that long ago, but after talking it over they decided they would adopt Annabeth and give her the best life possible being loved and spoiled. Now she has a forever home where she can hang her leash up. What an amazing gift of love for Annabeth. She loved both of her new parents and went home to her brother ( another boxer). What an act of compassion to open their hearts up to a senior dog who has been through so much. Happy Life Annabeth we are so happy for you.
---
LOVE PROMISES - Katlin K
The continued partnership between Lithia Subaru of Fresno and LLS is helping patients all over the Central Valley keep busy, and cozy. This June, during National Cancer Survivor Month we partnered with our friends at Valley Children's Healthcare to deliver blankets and craft kits to wrap patients in love and show our promise to their fight against blood cancers and all other illnesses. Through the generosity of Lithia Subaru of Fresno, Russell and Roger met with our team to personally deliver this message of hope to VCH Oncology Certified Life Specialists and they were elated, to say the least. The individualized, robust, craft kits were sure to be enjoyed by children of all ages and abilities and the blankets elevate their already exceptional care from good to GREAT. It was an afternoon to remember, no doubt. THANK YOU!!

---
Share the Love is Saving Lives - Charity S
The City of Fresno and Fresno County have the highest per capita call rates to law enforcement for domestic violence incidences in the state of California. Marjaree Mason Center (MMC) is the only dedicated provider of 24/7 crisis response, emergency safe housing and comprehensive domestic violence supportive services serving Fresno County. When Marjaree Mason Center was contacted by Lithia Subaru of Fresno as a 2021 Share the Love event beneficiary we were pleased to connect with a local business with an interest in supporting MMC's mission to prevent and end domestic violence in Fresno County. When we attended the Share the Love check presentation event and were awarded $21,000 to support adults and their children fleeing the trauma of domestic violence we were OVERJOYED by the support of Subaru owners and a dealership that cares so much for its community. Thank you Lithia Subaru of Fresno for helping Marjaree Mason Center provide uninterrupted emergency safe housing and supportive domestic violence services to more than 8,000 adult and children annually! As a non-profit, we rely on community partnerships to help us provide safety when it is needed most. We are so incredibly thankful for your generosity!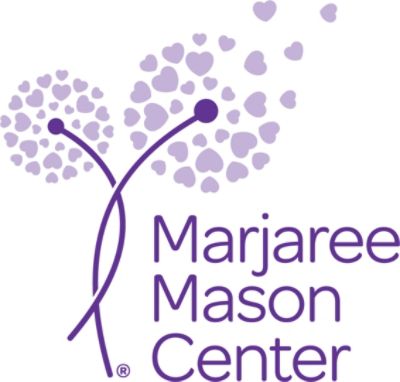 ---
Beyond grateful - Jennifer W
The last few years have been unprecedented and many of our families have been stretched to their limits financially, emotionally and physically. Thanks to the generosity of Lithia Subaru- we as an organization we're able to provide families diapers for the entire year, over 100,000 diapers across the Central Valley. Free of charge! Our families are so grateful for that support.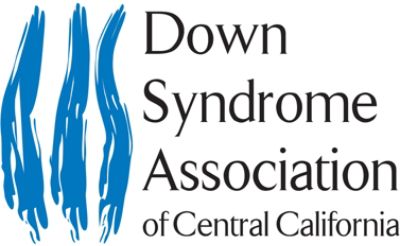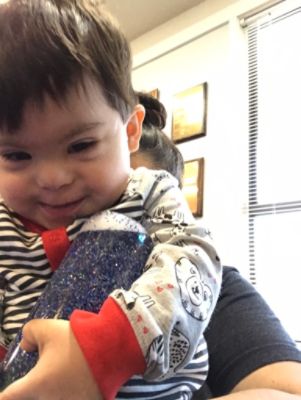 ---
Show your Pride!!!!! - Jacob R
Lithia Subaru never fails to impress. Yet again this year they were a sponsor to the Fresno Rainbow Pride Parade and Festive. There donation goes to help fund the parade and festival for the LGBTQ+ community. This year was their biggest turn out in the history of the parade. Not only is the partnership much appreciated but Lithia Subaru is the only auto dealership to be involved in the parade. We are so proud to have such an amazing partnership. We look forward to Pride each year. Thank you for your support and love that you show to our community.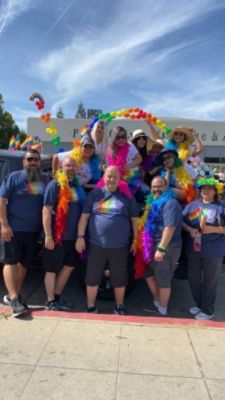 ---
Cassie The Underdog - Julie B
Cassie is truly an underdog, she was brought to Animal Rescue of Fresno (ARF) on July 5th after being saved from almost getting hit by a truck. Cassie was a stray wandering the streets for quite some time. When she arrived at ARF she was not spayed and severely in need of a dental, suffered from cherry eye and had numerous mammary tumors all over her tummy. No family was ever found and after the stray period was over we completed the necessary surgeries. Our vet removed over 6 masses and fortunately they were all benign. Cassie went into a foster home to heal from her huge day of surgeries. She had a wonderful foster mom that gave her a quiet space to heal and get ready to find her forever family and start living her best life. This girl healed nicely and because of the event at Lithia Subaru of Fresno and the added awareness she landed herself a wonderful forever home.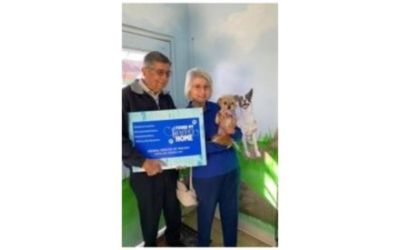 ---
Thanks "Fore" Supporting Central California SPCA! - Linda V
We're so grateful Lithia Subaru of Fresno was one of our presenting Title Sponsors at our third annual Dog Days at Airways annual golf tournament in May of 2021. Their generosity directly contributed to the overall success of the tournament. Since 2020 was a little unprecedented, we weren't sure what to expect. Life finally felt like it was beginning to feel like it did pre-pandemic and people were readjusting to daily life. We were pleasantly surprised that this year's event was our biggest and best one yet! 144 golfers showed their support and over $25,000 was raised for the animals in our care! All funds raised at the tournament funnel back into our community. We're committed to leading and helping animals and people by providing programs and services throughout all stages of an animal's life: adoptions, rescue, foster care, owner surrenders, outreach, humane education, veterinary services, spay/neuter programs, pet services, and more. It means a lot to have caring and collaborative partners like Lithia Subaru of Fresno who share their love for animals and have a desire to help the greater good.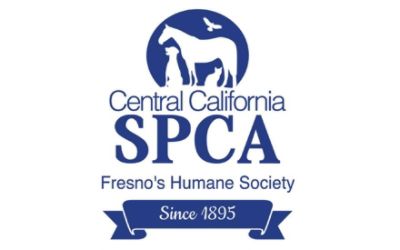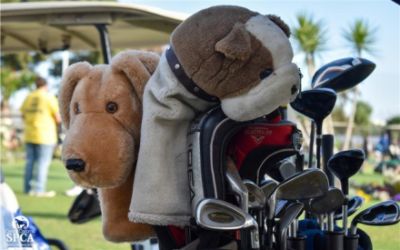 ---
American Pie - Julie B
Due to the extra exposure from Lithia Subaru of Fresno we were able to fundraise enough to care for Boody's TPLO surgery. These days it's hard to find something good in the world, and life just seems drab. Unlike we humans, dogs seem to have an innate way of rolling with the punches and going along with whatever the universe throws at them. For example, ARF is housing a few dogs and cats from the fires, and since they don't know what's happening, we try our best to comfort them. The only reason they're trusting us volunteers at all is because we keep our pockets packed with treats. Pupperoni is key for making new friends. One of our newest tenants, "Boudroex" (aka Boody), is not a victim of the fires, but of a painful human condition called Multiple Sclerosis (MS). Boody's owner had MS, whose symptoms can include vision problems, fatigue, dizziness, and permanent nerve damage. Boody is an obedience service dog, who was specifically trained to help his owner through the difficult and painful process of dealing with MS on a daily basis. Even though there are many treatment options, Boody's owner sadly lost his battle with MS. I'm sure Boody was right by his side, just like Miss Cocoa was with my dad. A dog's love never dies… Boody is a beautiful tan and white male American Bulldog, about six-years-old. I was finally able to meet this charmer over the weekend, and after about five minutes, I seriously wanted to smuggle him home. Unfortunately, Miss Cocoa would not approve. And well, at 85 pounds, Boody's a bit too large to fit into my biggest tote bag. Boody is one of those dogs who might intimidate people at first glance. He's tall, with a squishy face and underbite, which can definitely look a little scary. But once he leans against your legs like you're a giant Oak tree, any apprehension melts away. Boody enjoys lots of scratching on his big bully head and his wiggly butt. Just watch out for that tail; it's a true lethal weapon. Boody's that friendly dog who sees a stranger, and immediately races over to say, "Hey, who are you? Do you have any treats? Will you be my best friend?" This sweet boy is high energy, strong, and super FUN. He's also one of those dogs who doesn't know his own strength, and can easily knock a small child or elderly person to the ground. Boody loves to play, but keep an eye on this Speedy Gonzales – he's a fast one! Boody has a sister, Jewel, another American Bulldog. She is also trained for basic obedience, and at one time she was a licensed companion service dog. Jewel was lucky enough to be chosen for one of our Heaven Can Wait trips to Oregon, where she will, without a doubt, find her forever home. Unfortunately, Boody wasn't able to make the same journey, since he's recovering from surgery on his right leg. Similar to a torn ACL in humans, Boody was suffering from a Cranial Cruciate Ligament (CCL), which causes pain and immobility. This can occur after extensive impact on the ligament, or during a sudden injury. It's possible that Boody's frail owner leaned on Boody for support. After many years, this may have taken on a toll on his back leg. To treat a CCL rupture, vets recommend the Tibial Plateau Leveling Osteotomy (TPLO). The TPLO procedure is a method to repair a cruciate ligament rupture. The TPLO is the most common procedure for dogs with a cruciate tear. It requires a specialty surgeon, and in general, the TPLO has an excellent success rate. Boody is happy to be pain-free again, but NOT happy about his restrictive recovery time of 8-12 weeks. Why CAN'T I go play? It's not fair…oh wait, is that another biscuit for little ol' me?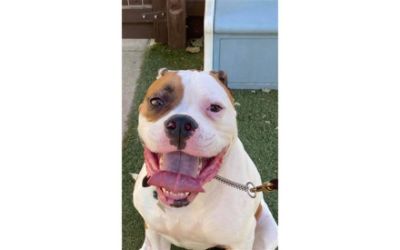 ---
Subaru & Santa Delivers Bed - Vivian M
Thank you so much for the exciting event you held for the Share the Love Event. It is awesome that you chose Sleep in Heavenly Peace as your Hometown Charity. You made it extra special by sponsoring the event and having Santa Clause come to the kids house and help deliver beds to these kids. One child commented that he didn't think Santa Clause cared about him.
---
Ripple Effect of Blanket Deliveries - Tamar K
For the past three years, we have been SO very fortunate to partner with Lithia Subaru on a number of Leukemia & Lymphoma Society collaborations. Through the years our partnership has strengthened and grown. They have been one of our greatest supporters of Light the Night and their positive impact has gotten bigger each year. As soon as we found out we were partnering again for the Subaru Blanket Deliveries, we jumped for joy! We immediately began to think of ways of making it an even more impactful delivery than in the past years. This led us to team up with two of our local health care facilities; Valley Children's Hospital and Ccare to deliver blankets and art kits. Needless to say, we were blown away by how many people were impacted. The visit to Valley Children's Hospital gave us the opportunity to see the kids open the arts and crafts kits. It was a beautiful scene seeing the excitement and joy on their faces. After we delivered the craft kits, Frank the General Manager of Lithia Subaru, and our Light the Nights staff, participated in an intense game of Jenga. As they played, our Patient Access team had the chance to talk to the child life specialists and oncology social workers. We witnessed how the actions of Subaru positively impacted the daily lives of these children. The hospital staff specifically mentioned how the kits were a great resource for the kids, especially when they had to be held in their rooms for treatment. This great impact continued into the following week when as we went to Ccare. We asked our board chair, whom is also a cancer survivor to join us in the deliveries. The responses of the patients, our volunteer, and care givers truly showed the ripple effect of the simple gesture of sharing kind words can make. Their treatments were made a little more bearable by witnessing how the community truly cares about them. Many even mentioned that the blankets were a perfect gesture, given the cold temperatures in the infusion rooms. As Janice, Russell and Frank from Subaru and the LLS and Ccare staff visited with various patients, and shared the messages of hope and blankets they were greeted with stories of individual journeys, smiles of appreciation and gratitude. Janice, our Board chair, later shared how being a part of the deliveries was one of the best and most impactful experiences she had ever been a part of, as a volunteer for LLS. It was a pleasure and a humbling experience to say the least. Even the nurses and the Ccare staff were excited and appreciative of the efforts and made sure to thank us repeatedly for the blankets as well as the messages of hope. By the time we left, we had distributed all of the blankets to the patients that were being treated that day. Seeing the impact this generosity had on patients, survivors and our community as a whole was truly so inspiring. It really displayed how Subaru truly values giving back to the community through their wonderful positive actions, keeping their love promise alive. Thank you so much Frank, Russell and LIthia Subaru for all you do for the patients in our community. We are so grateful to be partners with you.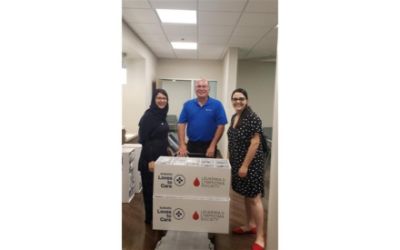 ---